Lager der Reihe 608 für Skateboard
Als ein professioneller Lagerhersteller bieten wir verschiedene Größen, Materialien und Arten Kugellager, Schiebetürlager und gleitende Fensterlager 609 an. Neben nimiatur Kugellagern 609 liefern wir 6000 Reihe Rillenkugellager und andere Rillenkugellager 6200, 6300, 6800, 6900-Serie, kundenspezifische Nicht-Standard-Lager könnte zur Verfügung gestellt werden, OEM, ODM-Dienste werden von NMN zur Verfügung gestellt.
Brand

NMN or as your requirements

Material

Chrome steel, Carbon steel, Stainless steel

Seal type

Open, Z, ZZ, RS, 2RS etc

Color

Various colors, customized

Logo

Can be customized

Precision

ABEC-1, ABEC-3, ABEC-5, ABEC-7

Clearance

C0,C1,C2,C3,C4,C5 etc.

Noise

Z1,Z2,Z3,Z4

Vibration

V1,V2,V3,V4

Delivery time

3-35 days after receive the prepayment, according to the quantity

Payment term

T/T, paypal, western union, money gram, L/C

Package

1, plastic bag + outer carton + pallet

2, single box + outer carton + pallet

3, tube package + box + carton + pallet

Or according to your requirements
Miniaturkugellager 604 605 606 607 608 609 623 624 625 626 627 628 629 693 694 695 696 688 689 usw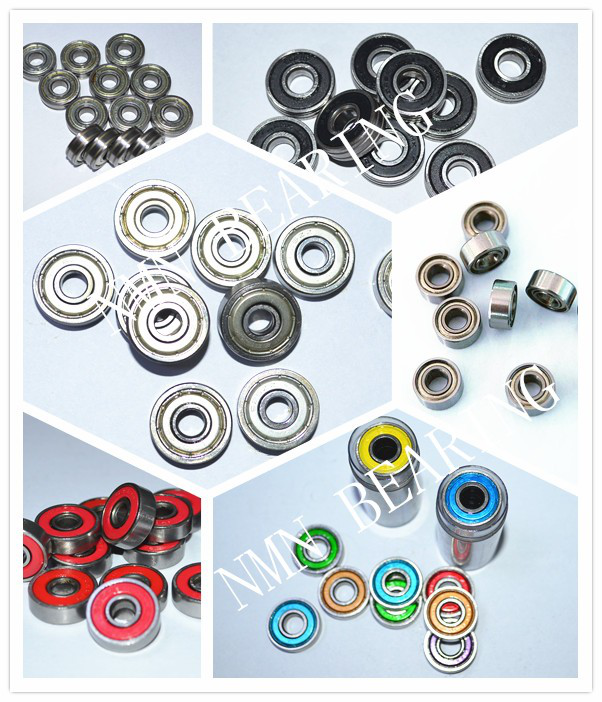 Verwendung:
Einreihige Rillenkugellager werden in einer Vielzahl von Anwendungen eingesetzt, sie sind einfach im Aufbau, nicht trennbar, für hohe Drehzahlen geeignet und sind robust im Betrieb und benötigen wenig Wartung. Tiefe Rillen der Laufbahnen und die enge Übereinstimmung zwischen den Laufringnuten und den Kugeln ermöglichen es, dass Rillenkugellager zusätzlich zu Radiallasten axiale Lasten in beiden Richtungen aufnehmen können.
Verpackung:
1. plastiktüte + umkarton + palette
2. einzelne box + umkarton + palette
3. Schlauchpaket + Box + Karton + Palette
4. entsprechend Ihren Anforderungen
Lager 608: 2000pcs / Karton
Lager 6204: 250pcs / caton 25tube, kein Papierkasten
Lager 6000, 6000 , 629: 1000 Stück / Karton
lager 626: 2000 stücke / karton oder 4000 stücke / karton
Kontakt:
Lagerdaten - Allgemein

6000 Series Rillenkugellager
6200 Series Rillenkugellager
Rillenkugellager der Serie 6300
Rillenkugellager der Serie 6800
Rillenkugellager der Serie 6900
Inch Series Rillenkugellager

Bearbeitet von Naimei Bearing - Spezialisierte Kugellager Anlage für etwa 20 Jahre,

OEM-Service zur Verfügung gestellt und begrüßt,

Beste Lagerqualität, wettbewerbsfähiger Lagerpreis, Premium-Service,

Schnelle Lieferung, immer ausgezeichnete Qualität,

Alles für Kunden
Produktgruppe : Miniaturlager